| | |
| --- | --- |
| Posted on January 23, 2020 at 10:50 AM | |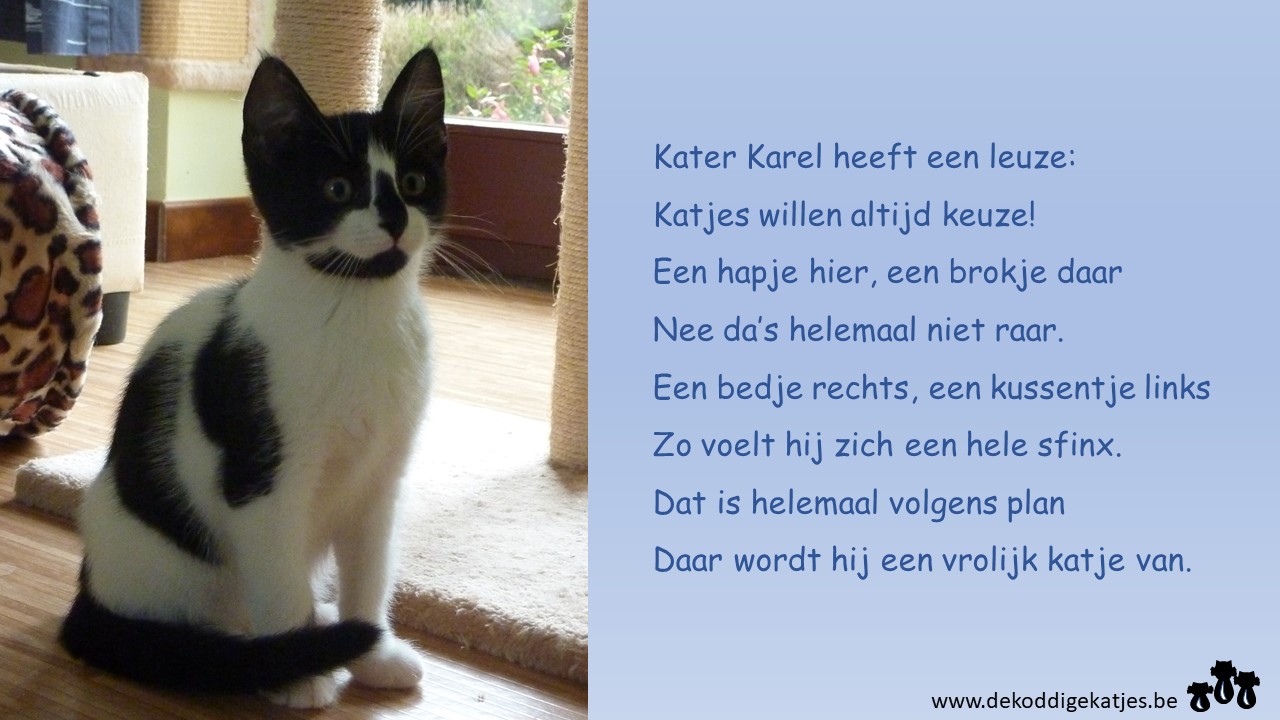 De moraal van het verhaal (hihi, dat rijmt ook nog eens):
Een van de belangrijkste dingen die je kan doen om je kat helemaal happy te maken, is: keuzes voorzien. En dat geldt voor alles wat een kattenhartje wil: eten, drinken, slaapplekjes, verstopplekjes, krabmogelijkheden, uitkijkpostjes, en last but not least, de kattenbak natuurlijk. Maw, je kat wil kunnen kiezen uit verschillende plekjes waar ze eten vindt, verschillende plekjes waar ze water vindt, verschillende slaapplekjes, enz enz. Je zal zien dat je kat bv een hele tijd 1 slaapplekje gebruikt, maar dan na een tijd toch weer een ander plekje uitkiest als favoriet, bv als de seizoenen wisselen en 1 plekje dus te koud of te warm wordt. Denk dus ook niet van "deze kattenbak gebruikt hij eigenlijk nooit, ik kan die evengoed wegnemen", want dat gaat je kat waarschijnlijk helemaal niet apprecieren.
Dit alles geldt wanneer je 1 kat hebt. Want ook een kat alleen wil keuzes. Maar het is nog veel belangrijker als je meerdere katten in huis hebt: dan moet je van alles eigenlijk "N+1" voorzien. Wat wil dat zeggen? Stel je hebt 3 katten (N = 3), dan hebben die graag keuze uit 4 (= N + 1) plekjes waar ze eten vinden, 4 (andere) plekjes waar ze kunnen drinken, enz enz. En 5 of 6 van elk mag natuurlijk ook. Hoe meer hoe liever. Heb je meerdere katten die niet altijd even goed overeenkomen, dan is het aanbieden van keuzes een eerste stap om de spanningen in huis te verminderen. Het belangrijkste is nl dat de kat kan kiezen van "oh, dit toilet is bezet, maar da's geen probleem, want ik weer er nog eentje zijn". Of "zut, dit slaapplekje is al ingepikt, maar ik weet nog een zacht bedje staan". Dat maakt echt een gi-gan-tisch verschil in een meer-katten-huishouden.
Dus, probeer het maar eens uit: verdeel de brokjes eens over 2 bordjes ipv 1, die je op verschillende plekjes in huis zet (dus niet vlak naast mekaar), of zet een paar extra drinkbakjes, voorzie een paar extra krabplankjes, enz. Liefst niet alles ineens, want katten houden niet van verandering. En laat vooral even weten wat je kat ervan vindt. Ik ben benieuwd.
Categories: Algemene tips voor kattenpersoneel
/