| | |
| --- | --- |
| Geplaatst op 28 oktober, 2018 om 0:00 | |
Het gebeurt onvermijdelijk wel eens... een kitten met een snotneusje. Zo ook een van mijn huidige logeetjes, Shadow. Nu, geen paniek! In zijn geval bleek het allemaal wel mee te vallen, en ondertussen is dat gesnotter alweer voltooid verleden tijd. Maar 't is een goeie gelegenheid om jullie even een paar voorbeelden mee te geven van wat we met onze opvangertjes zoal tegenkomen. Want als opvangmama van vooral bange zwerfkittens heb ik onvermijdelijk wel eens zieken in huis. Maar dankzij de ervaring van het asiel, de raad van de dierenarts, en ondertussen de persoonlijke ervaring van >5 jaar kittenopvang, zijn de meeste probleempjes snel opgelost.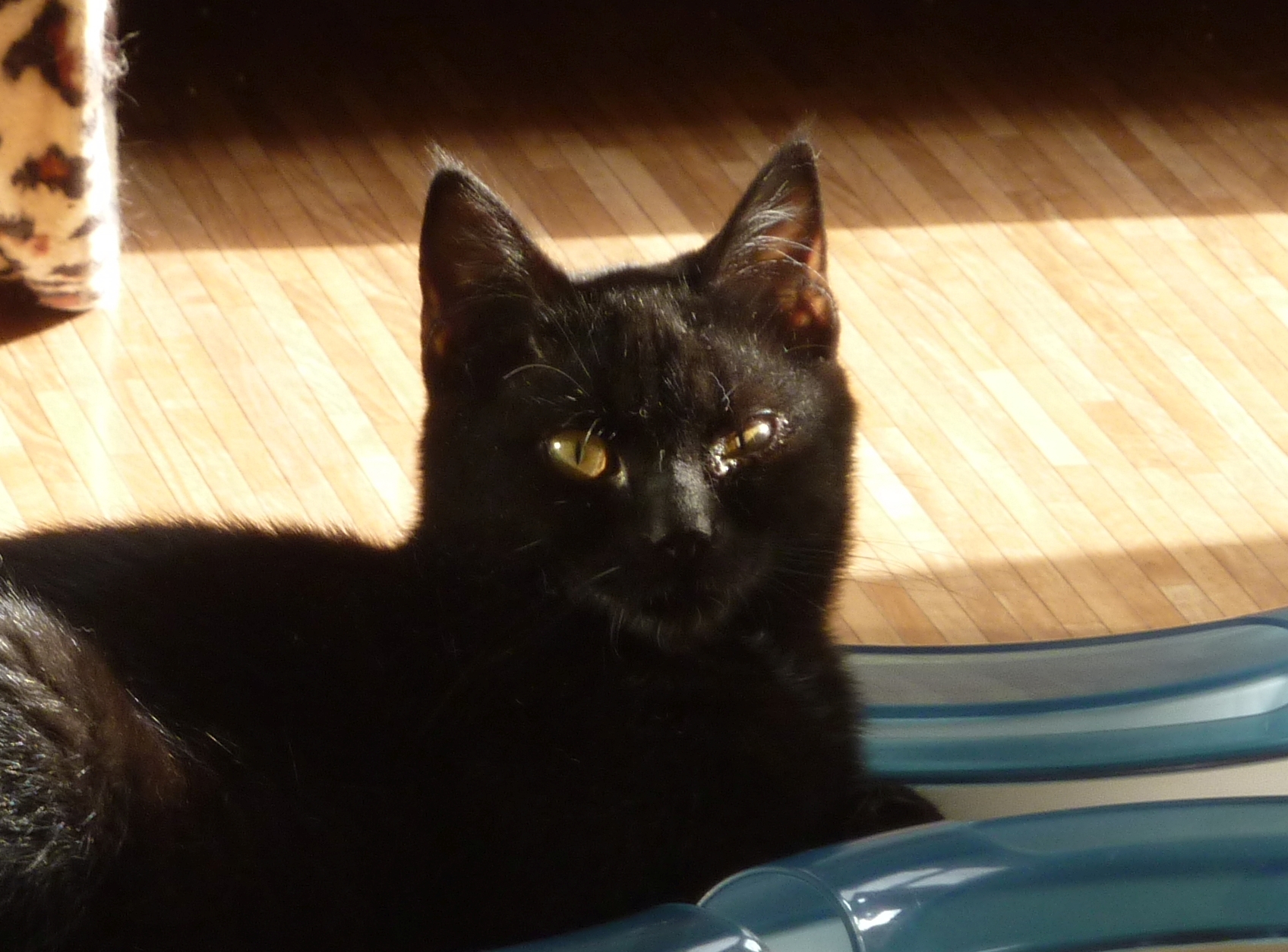 Je raadt het al, de moraal van dit verhaal wordt straks: dump geen kittens, want het risico is enorm dat ze het dan niet redden omdat ze ziek worden. Maar goed, als je deze blog leest, dan behoor je niet tot de categorie mensen die kittens zouden dumpen. Dan kan ik je hoogstens aanraden om wanneer je ergens half-wilde kittens vindt, zo snel mogelijk een asiel in te schakelen. Want vaak merk je niet onmiddellijk dat ze ziek zijn, en het is nu eenmaal belangrijk om er zo snel mogelijk bij te zijn.
Vooreerst moet je goed beseffen dat katten van nature niet komen vertellen dat ze ziek zijn. Ook jouw tamme aanhankelijke huiskat niet. Dus is de boodschap: heel goed opletten op elke verandering van gedrag: minder eetlust, minder actief, meer terugtrekken, meer knuffels vragen, minder knuffels vragen, enz. Alles wat "anders dan anders" is, kan erop wijzen dat er medisch iets aan de hand is.
Maar bij bange logeetjes is dat natuurlijk niet zo simpel. Het kitten verstopt zich, is minder actief... Tja, vaak is dat eigenlijk gewoon omdat ze nog veel te bang zijn... Bovendien moet je natuurlijk zo'n kitten eerst een beetje leren kennen, vooraleer je weet wat "normaal" gedrag is. En verder zie ik dan heel vaak hetvolgende: kleine bangerikjes die na enkele dagen wat vrolijker en speelser worden, naarmate ze wennen aan hun nieuwe omgeving. En dan als ze na een weekje of zo wat minder bang zijn, dan zullen we nu eens ziek worden zie. Zucht. Ik ben het ondertussen gewend: als de stress wat wegvalt, dan worden ze ziekskes. Net zoals mensen met een erg stressy job ziek worden als ze met vakantie zijn.
Maar goed, even terug naar Shadow: hij zat met een hoestje, eerst sporadisch maar daarna toch iets vaker, dan kreeg hij een tranend oogje en een snotneusje... En toen voelde hij zich te slapjes om nog te ravotten met de zus. Aanvankelijk werd er nog even gewacht of hij zonder pilletjes zou beter worden, we willen niet onnodig antibiotica starten, en zijn vaccinaties had hij al gehad, maar uiteindelijk is er beslist om toch maar even te helpen: pilletjes dus. Op zich ook even een kleine uitdaging, maar daar had ik het in een https://www.dekoddigekatjes.be/apps/blog/show/45202541-hoe-krijg-ik-die-pil-in-die-kat-" target="_blank">eerdere aflevering van de blog al eens over. En omdat hij braaf elke dag zijn pilletje neemt, voelt hij zich ondertussen alweer een heel stukje beter. Shadow had zijn vaccinaties al gehad toen hij ziek werd... maar ja, ook als je tegen griep gevaccineerd bent, kan je nog wel een verkoudheid krijgen he.
Voor iedereen die zich afvraagt wat we zoal tegenkomen bij zwerfkittens:
Vooreerst allerhande vieze beestjes... vlooien, oormijt, wormen, enz. Maar da's echt een hoofdstuk op zich, dus dat houden jullie tegoed voor een volgende aflevering van de blog.
Niesziekte: komt best wel vaak voor, en is ook vrij makkelijk te herkennen: vies neusje, vieze oogjes, enz. Je kent het wel, de typische fotootjes die je wel eens ziet van sukkelaartjes die het asiel binnenkomen. Is vaak niet al te dramatisch, tenzij bij heel kleine kittens of wanneer het reeds vergevorderd is.
Kattenziekte: de schrik van elk asiel of van iedereen die katten/kittens opvangt. Als je dit 1 keer hebt meegemaakt, dan zal je nooit meer twijfelen om je kat te laten vaccineren. Dit is echt akelig. Tegen dat je goed en wel gezien hebt dat het kitten niet in orde is (hongerstaking, braken, ...), ben je eigenlijk al te laat... Bij kattenziekte is er in 95% van de gevallen niets aan te doen, en het is dan bovendien ook nog eens extreem besmettelijk. Het goeie nieuws: hiertegen kan je vaccineren (maakt deel uit van standaard vaccinatie-programma), en de vaccinatie doet wat ze moet doen. Dus alle katjes die reeds hun vaccinatie gehad hebben, worden niet ziek.
Calici virus. Dat gaat als volgt: je ziet zo'n kitten rondlopen, en denkt bij jezelf "tiens, heeft die misschien wat te hevig gespeeld en een pootje pijn gedaan of zo...?" en dan gaat dat 2e pootje ook gek doen... en dan weet je het wel: Calici. Dat slaat nl op de gewrichtjes, dus dan lijkt het alsof ze een pootje verstuikt hebben of zo. Gaat vrij snel. Zo heb ik er eens eentje gehad waarvan ik op zondagmiddag dacht van "tiens, daar is precies iets niet helemaal in orde, even extra in 't oog houden", en om 21u 's avonds besliste om me terug aan te kleden (ik zat al in pijama) en de dierenarts van wacht te bellen. Prikje en pilletje... en jawel, volgende dag terug een vrolijk kitten. Ze gaan vaak snel achteruit, maar als het goed gaat, zijn ze er ook heel snel terug bovenop. Voor de volledigheid: een ander symptoom van calici is blaasjes op de tong, waardoor ze dan typisch in hongerstaking gaan.
Het goeie nieuws: alle 3 hierboven beschreven ziektes zitten in het standaardvaccinatie-programma dat elke kat echt wel moet krijgen.
En dan zijn er natuurlijk nog een hele reeks andere ziektes en medische problemen, maar dat zou ons te ver leiden: FIV (kattenaids), FIP (da's wat anders dan FIV he; en je wil het niet weten... ook een ticketje poezehemel), problemen met blaas of urinewegen (plasjes naast de bak...), artrose bij oudere katten, tandproblemen (niet te onderschatten!), enz. Voor veel van die dingen kan de dierenarts in vroeg stadium een diagnose stellen, en dat kan veel leed voorkomen.
Dus, wat hebben we nu geleerd vandaag?
Laat je kat aub correct vaccineren. Je ziet op sociale media wel eens berichten die dat afraden, maar wie vertrouw je het meest: onbekenden op sociale media die beweren dat vaccinaties enkel goed zijn om de kas van de farmaceutische industrie te spekken, of je dierenarts? Ik kan je verzekeren, als je 1 keer een epidemie van kattenziekte hebt meegemaakt – waarbij alle gevaccineerde katten gezond blijven, maar 90% van de nog-niet-gevaccineerde kittens (wegens nog te klein) en net-binnengekomen asielkatten (waar de vaccinatie nog niet werkt) een ticketje naar de poezenhemel krijgen, dan twijfel je niet meer hoor. 't Is even wat stress en een klein prikje voor de kat, maar je sluit er zoveel risico mee uit.
Als je een kat (of kitten) uit een asiel adopteert, dan kan je erop rekenen dat die in orde is met de vaccinaties. Dan hoef je je dus niet meer ongerust te maken over kattenziekte en derg. Mits je natuurlijk correct deze vaccinaties jaarlijks (sommige 2-jaarlijks) blijft herhalen. Vraag hiervoor advies aan je dierenarts.
Omgekeerd, als je je laat verleiden door een advertentie voor "gratis kittens", weet dan dat je risico loopt om al die akelige dingen tegen te komen die we als asiel ook tegenkomen. En da's niet leuk!
Dump geen kittens! Maar dat hadden we dus al he...
Onthou dat je kat behoort tot de categorie van mensen – eeeh beestjes - die eigenlijk veel te lang wachten om naar de dokter te gaan. Maw je kat zal heel lang proberen te verbergen dat ze zich niet zo lekker voelt, of dat ze ergens pijn heeft. Dus zodra je – zelfs kleine – veranderingen in gedrag ziet, aarzel niet om even raad te vragen aan je dierenarts. Net als bij mensen: hoe sneller je erbij bent, hoe makkelijker het probleem opgelost geraakt.
De veterinaire geneeskunde kan niet alles oplossen, maar ik heb echt al spectaculaire resultaten gezien. Dus bij elke twijfel, een tripje naar de dierenarts is echt wel de moeite.
Zo, Shadow is ondertussen van zijn snotneusje vanaf, hij speelt weer vrolijk mee met zijn zusje, en kan op zoek naar een forever home. 't Was misschien niet zo'n leuk onderwerp deze keer, maar het hoort er ook bij. En zieke katjes zijn geen koddige katjes, dus een degelijke basis-gezondheidszorg is absoluut essentieel om je kat vrolijk te houden. Kortom, ga even gauw checken wanneer de volgende jaarlijkse afspraak met de dierenarts moet ingepland worden. En niet vergeten he!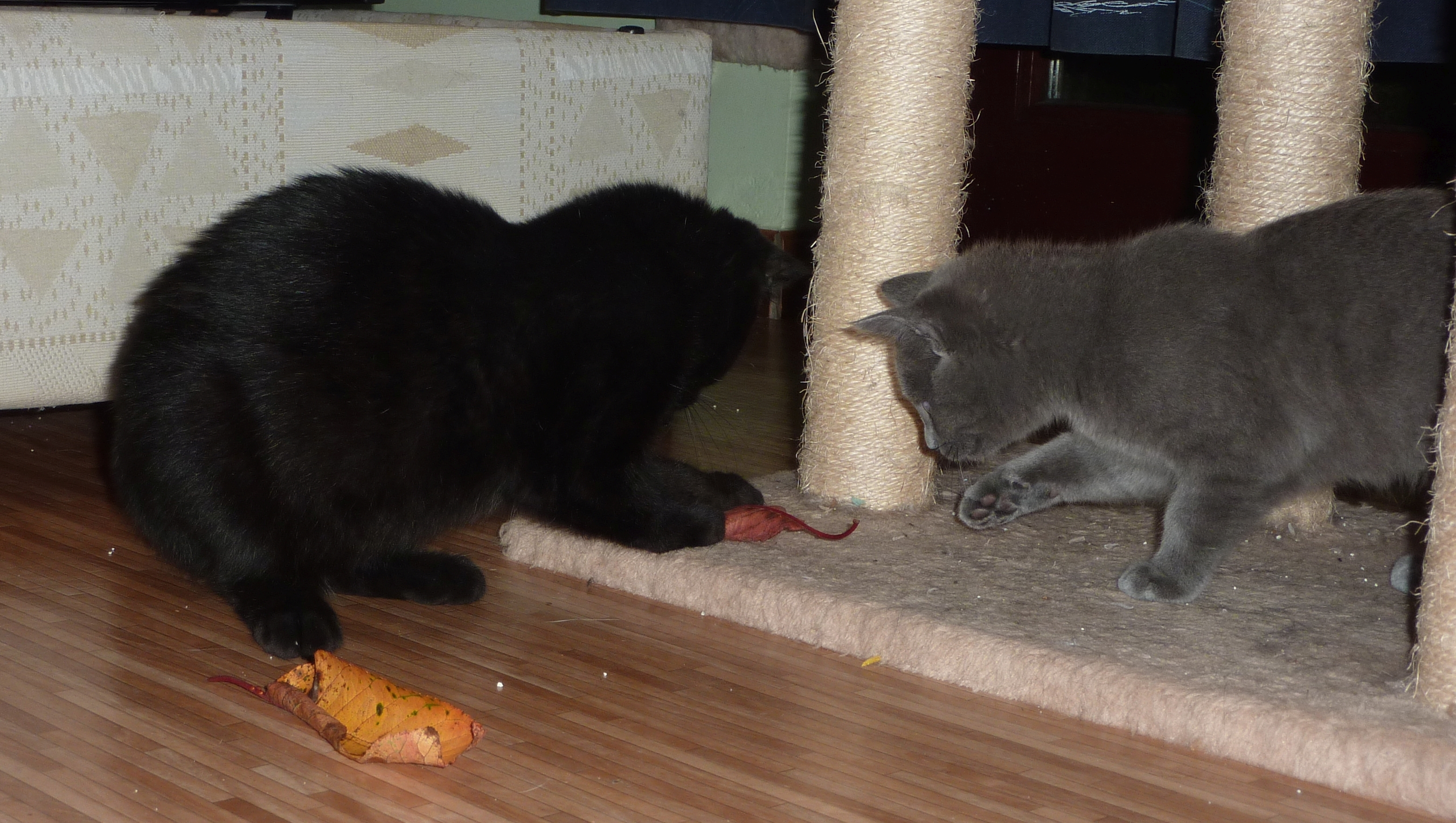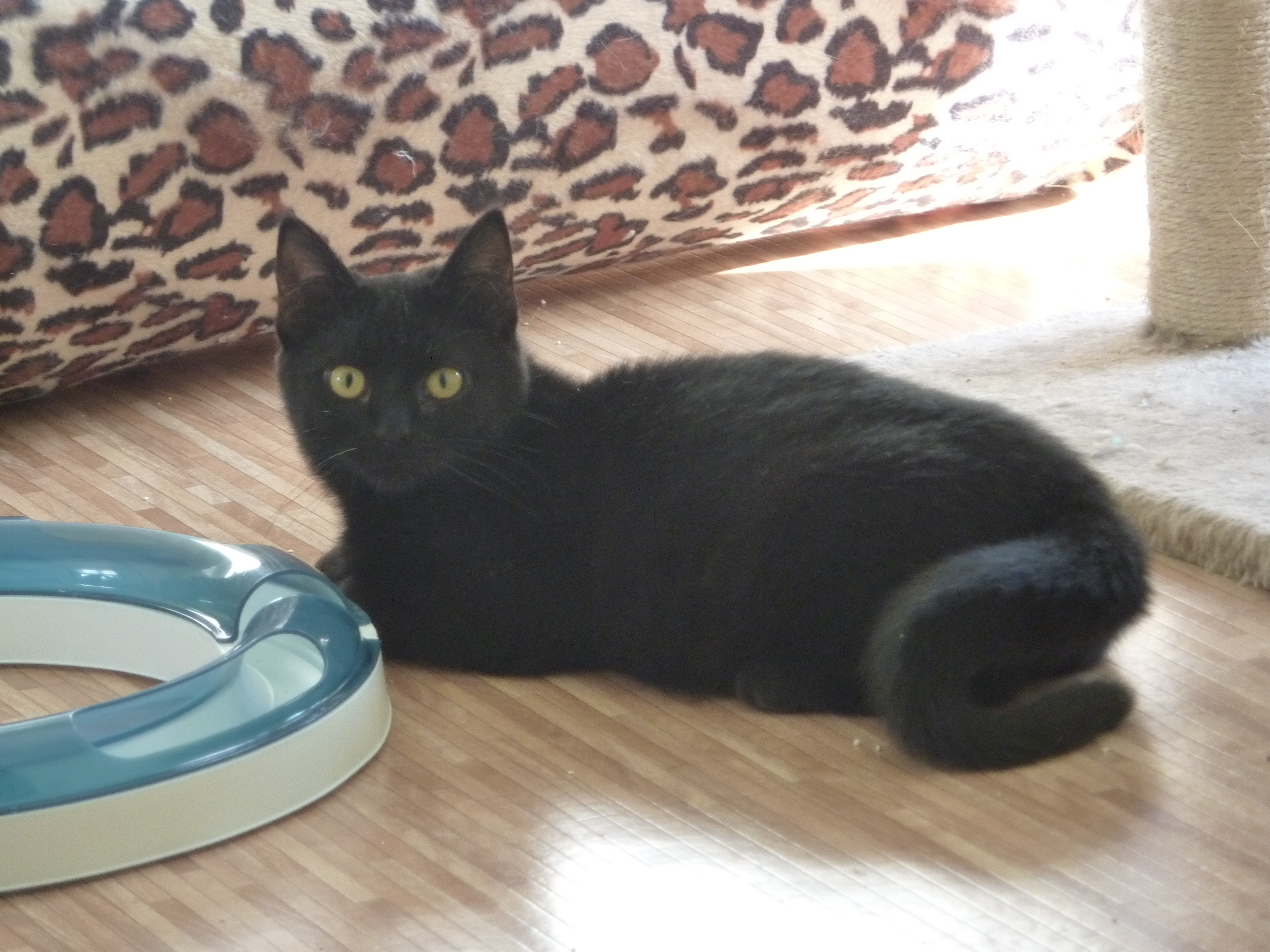 Categorieën: Kittens, Algemene tips voor kattenpersoneel

0

/