| | |
| --- | --- |
| Geplaatst op 19 augustus, 2018 om 10:50 | |
Een van de meest gestelde vragen van mensen die overwegen om bij mij een kitten te adopteren is: "Gaat hij/zij al goed op de kattenbak?"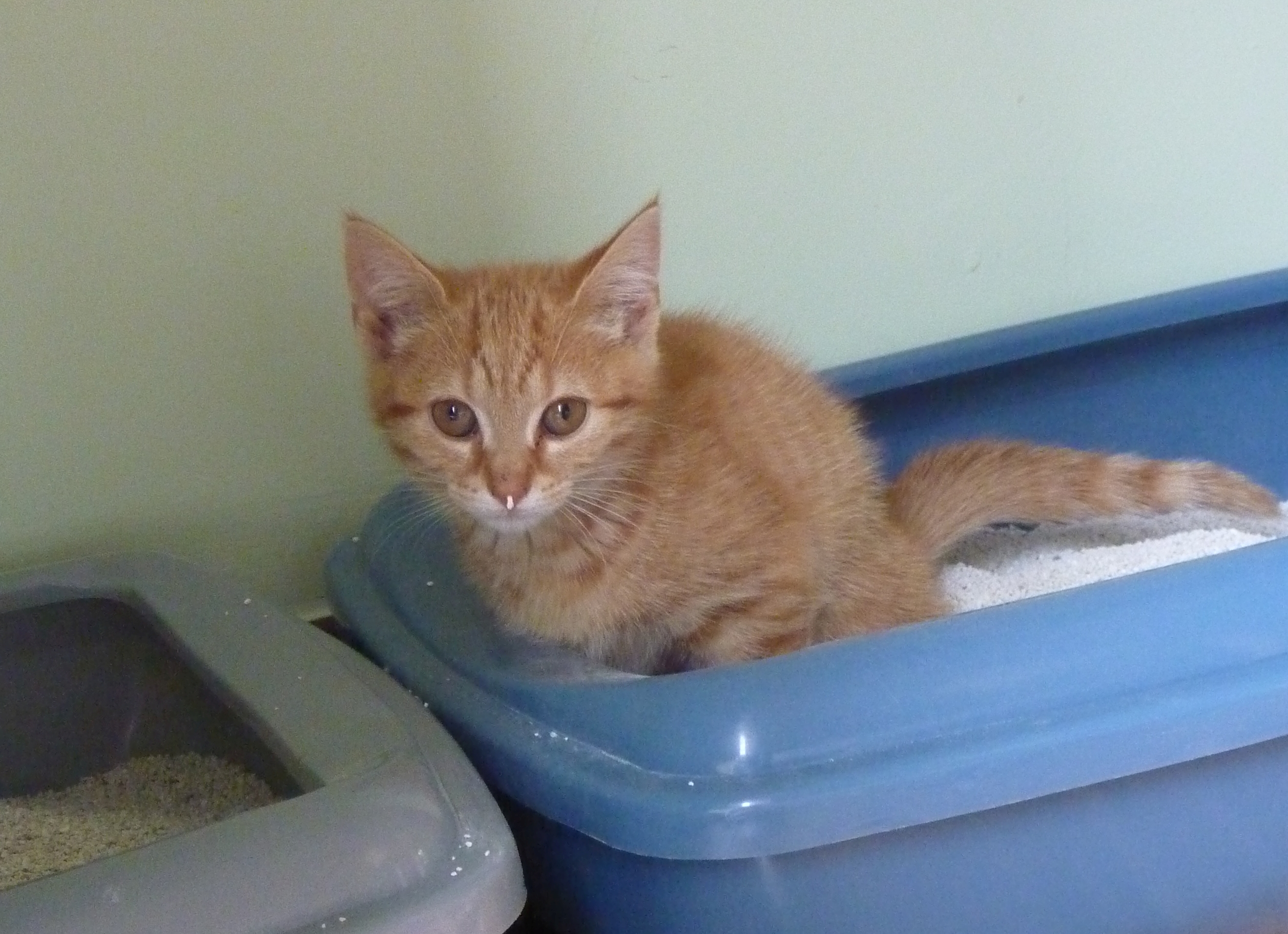 Het is duidelijk dat heel wat mensen ongerust zijn over kleine of grote boodschappen buiten de kattenbak vinden. En dat is heel begrijpelijk. Maar de vraag kan heel eenvoudig beantwoord worden: je hoeft een kat – zelfs een kitten, die op leeftijd van tien weken ergens bij zwerfkatten gevonden is – niet te leren om op een kattenbak te gaan. Het volstaat dat je een geschikte kattenbak op de juiste plaats te zet, en dan snapt zo'n dreumes vanzelf wel wat de bedoeling is. Oh ja, andere eventueel aantrekkelijke plekjes kun je tijdelijk buiten bereik zetten. Van de meer dan 50 kittens – ik ben al lang de tel kwijt – die de afgelopen jaren bij mij zijn komen logeren, heb ik nog nooit eentje moeten leren om op de kattenbak gaan. Dat gaat vanaf dag één echt vanzelf. Zelfs voor al die bangerikjes die recht uit het struikgewas zijn geplukt en die nog nooit mensen – laat staan een kattenbak – van dichtbij hebben gezien. Maar je moet dan wel zorgen voor een geschikte bak, op de juiste plek.
Hier volgen wat concrete tips om te zorgen dat het ook bij jou thuis goed gaat:

Ten eerste "de kattenbak op de juiste plaats". Jawel, het gaat niet zozeer om de vulling van de kattenbak, maar vooral over waar de kattenbak staat. Denk aan het volgende:
Als de kitten net bij jou in huis is, komt hij in een totaal vreemde omgeving. Da's behoorlijk stresserend. Zo'n kitten gaat dus in zijn "nieuwe territorium" op zoek naar veiligheid. En veiligheid betekent: verstopplekjes, eten/drinken, en... een veilig plekje om de kleine en grote boodschap te doen. Heb je zelf wel eens zolang in de file gestaan dat je een probleem kreeg? Niet leuk, hé. Dus de kattenbak moet in eerste instantie duidelijk zichtbaar en bereikbaar staan.
Verdergaand op dat thema, als je een groot huis hebt, of een huis met meerdere verdiepingen, dan is het zinvol om meerdere kattenbakken te voorzien, bv. minstens één op elke verdieping.
Een kat zal in het wild nooit haar behoefte doen vlakbij zijn slaapplekje of zijn etensplekje. Want die kat weet maar al te goed dat er een geurtje zit aan haar grote boodschap, en daarmee trek je roofdieren aan. Jawel de wilde kat heeft ook vijanden en die wil ze natuurlijk liever niet over de vloer. Da's overigens ook de reden waarom de kat haar grote boodschap zal ondergraven. En hoewel de kat bij jou in huis geen vijanden heeft die op dat geurtje afkomen, zal ze toch dat instinct blijven volgen. Dat betekent dus dat je voedings- en drinkbakjes voldoende ver van de kattenbak moet zetten, en dat bv. een krabpaal met onderaan een geïntegreerde kattenbak echt geen goed idee is.
En last but not least: op een "veilig" plekje. Dus niet bv. naast een wasmachine die plots begint te schudden tijdens het zwierprogramma. Als de kat plots schrikt terwijl ze op de bak zit, zou het kunnen dat ze in de toekomst die bak gaat vermijden.
Ten tweede, "de geschikte kattenbak":
De meest gestelde vraag: open of gesloten? Daar valt heel wat over te vertellen, maar het belangrijkste is het volgende: mensen kiezen vaak voor een gesloten bak omdat die de geur enigszins vasthoudt. Tja, da's leuk voor de baasjes, maar bedenk dat die kat een honderdmaal betere geurzin heeft dan jij. En jij gaat dus van haar verwachten dat ze op een extra stinkend toilet gaat? Misschien toch niet zo'n goed idee, hé.
Een ander argument voor een gesloten bak is dat de kat nogal overijverig is met het ondergraven van de grote boodschap. Ik kan ervan meespreken. Mijn vorig nestje opvangertjes waren kampioenen wat dat betreft. Man, man... vijf keer per dag kon ik met stoffer en blik aan de slag om de schade enigszins te beperken. Geen idee waar ze dat geleerd hadden. De nieuwe logeetjes doen het gelukkig veel minder. Maar goed, dan gaat een mens wel eens dromen van een gesloten kattenbak. Voor zo'n gevalletjes zijn er in de handel ook open bakken met extra hoge rand. Die kan je ook gebruiken voor katten die rechtopstaand plassen in de bak (m.a.w. tegen de muur...). Jawel, 't is eerder uitzonderlijk, maar het komt ook wel voor. Eerst even medisch probleem uitsluiten, maar als je met zo'n "hoogplassertje" zit, dan is een bak met hoge randen een goede oplossing.
En ja, toch nog een woordje over de vulling van de bak. De algemene vuistregel is "zo fijn mogelijk zand", geen brokjes die eventueel prikken aan de pootjes dus. En vooral – iets waar wel vaker tegen gezondigd wordt – een voldoende dikke laag. De kat moet de boel helemaal kunnen ondergraven.
Voor de volledigheid... als de kitten straks gaat uitgroeien tot een flinke, stevige kat, dan moet de kattenbak groot genoeg zijn, d.w.z. minimum 1,5 keer de lengte van de kat. Wat inderdaad betekent dat de meeste kattenbakken in de handel eigenlijk te klein zijn. Maar goed, dat zal zo'n kitten voorlopig worst wezen.
Ten derde, de kattenbak moet de enige, of toch de meest aantrekkelijke, optie zijn. Zo kreeg ik onlangs berichtje van een adoptant, dat de nieuwe kitten toch zijn boodschap in de plantenbak had gedaan. Tja, als je als kat een kattenbak krijgt en daarnaast ook een plantenbak met aarde, dan sta je wel voor een moeilijke keuze. De oplossing is vrij eenvoudig: zet die plantenbak een tijdje buiten bereik, of dek bovenaan af, zodat de kat niet bij de aarde kan, en dan hoeft de kat niet meer te kiezen. En na een tijdje zal ze wellicht de kattenbak zo gewend zijn, dat ze geen oog meer heeft voor de plantenbak.

Moraal van het verhaal: vergeet a.u.b. het soort suggesties zoals de kat met de neus in haar uitwerpselen duwen als ze ooit eens buiten de bak zou doen, want dat heeft echt totaal geen zin. En lig niet wakker van hoe je zindelijkheidstraining moet gaan aanpakken; da's iets voor puppybaasjes, niet voor kittenpersoneel. Je hoort me niet zeggen dat problemen met de kattenbak een fabeltje zijn. Spijtig genoeg komt het inderdaad wel eens voor. Daar zijn een hoop mogelijke oorzaken voor, maar da's weer een ander verhaal. Misschien iets voor een latere aflevering van de blog. Als je een kitten in huis haalt en alvast de bovenstaande tips toepast, dan hoef je je dus geen zorgen te maken over kattenbaktraining. En goed begonnen is half gewonnen.

Categorieën: Kittens, Algemene tips voor kattenpersoneel, Kattengedrag algemeen

0

/